Crossey Engineering announced today the merger with Salas O'Brien, an employee-owned engineering and technology firm. The merger creates a combined presence of more than 70 North American offices with over 2,200 team members, 325 of whom are based in Canada.
Crossey's capabilities and portfolio complement Salas O'Brien's skillset in mechanical, electrical, lighting, audiovisual, commissioning, and sustainable design. The Crossey team will continue to be managed by its current leaders and will adopt the Salas O'Brien name after a transition period.
"Crossey Engineering is known for strong technical leadership on highly complex projects like healthcare facilities and high-technology buildings," said Darin Anderson, Salas O'Brien chairman and CEO. "Our values and approach are totally aligned, and we are excited about the future for our clients and our team."
Salas O'Brien continues to grow as part of an ambitious plan to create the most respected engineering firm in the world, as measured by clients and team members.
"Crossey Engineering is excited to join with Salas O'Brien and build upon 60 years of serving clients around the world with our 'engineering first' approach," said Clive Lacey, president and CEO of Crossey Engineering. "By combining our skills and expertise, we will unite to make an even more significant impact as innovation and technology leaders."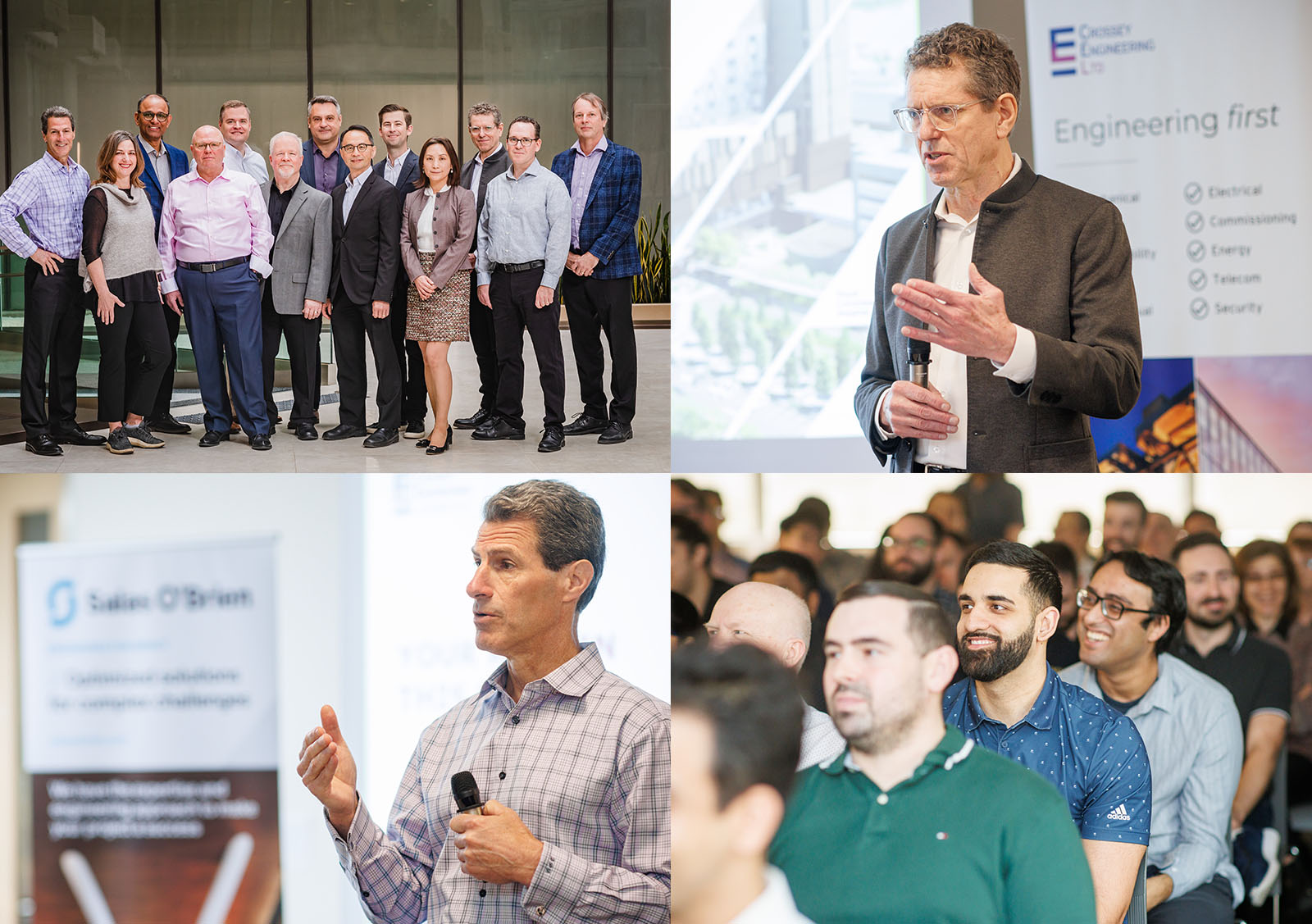 About Crossey Engineering
Crossey Engineering Ltd. (CEL) is a multi-disciplined engineering consulting firm dedicated to engineering excellence and exceptional service. We believe in designing efficient buildings while working within each client's budgets, timetables, and aesthetic visions. Since 1963, we offer mechanical and electrical engineering, and over the years, we've expanded our services to include lighting design, sustainability, telecommunications, ICAT, A/V, Security, and Commissioning. CEL became a Salas O'Brien Company in March 2023.
About Salas O'Brien
Salas O'Brien is an engineering and technical services firm that is focused on advancing the human experience through the built environment. Our team is engineered for impact™, helping clients achieve critical goals, advancing our team members through growth and opportunity, and operating at the center of important global issues including sustainability and decarbonization. We are a top firm as ranked by Engineering News-Record and Consulting-Specifying Engineer, and we have appeared for the past ten years on the Inc. 5000 list of North America's fastest-growing private companies.
Download the news release
Download the official photos
--
Media Contact
Manuela Parisi Braga, Communications and Marketing Specialist
Crossey Engineering, A Salas O'Brien Company
manu.parisi-braga@cel.ca
(416) 497-3111 x318
You are invited to immerse yourself in the fascinating details behind the award-winning lighting design of Buddy Holly Hall, located in Lubbock, Texas. This in-depth article from the esteemed LD+A magazine provides insight into the creative process behind Consullux's design.
The cymbal-inspired chandelier in the main theatre is a show-stopping design element that was meticulously crafted to avoid obstructing stage lighting and compromising the acoustics.
Congratulations to the team responsible for the highly technological and beautiful artistic elements of Buddy Holly's lighting design -- Ion Luh, Wallace Eley, Tulga Bold from Consullux Lighting Designers, and Matthew Lella and Michael Lukasik from Diamond Schmitt Architects.
Read the article here.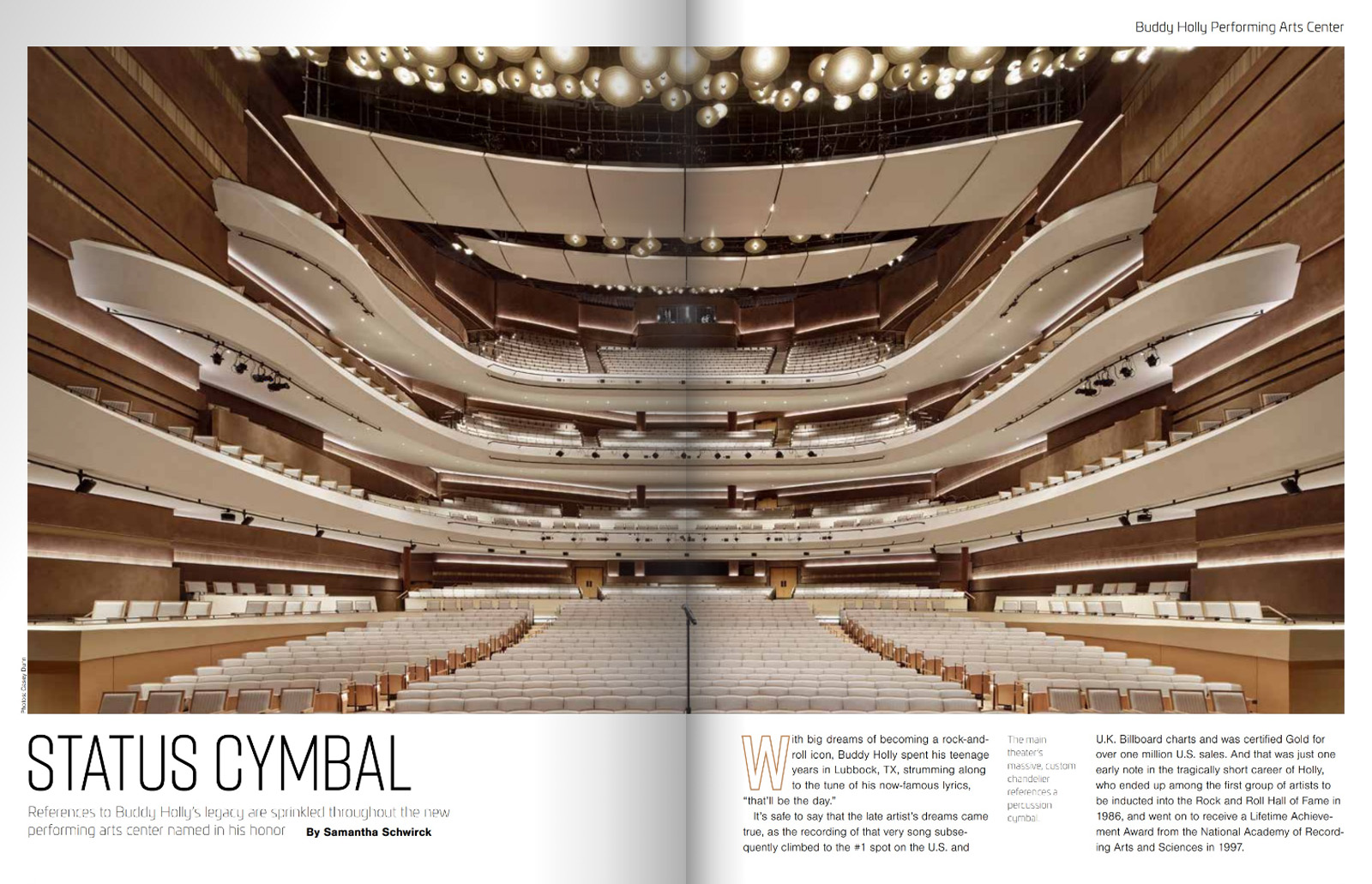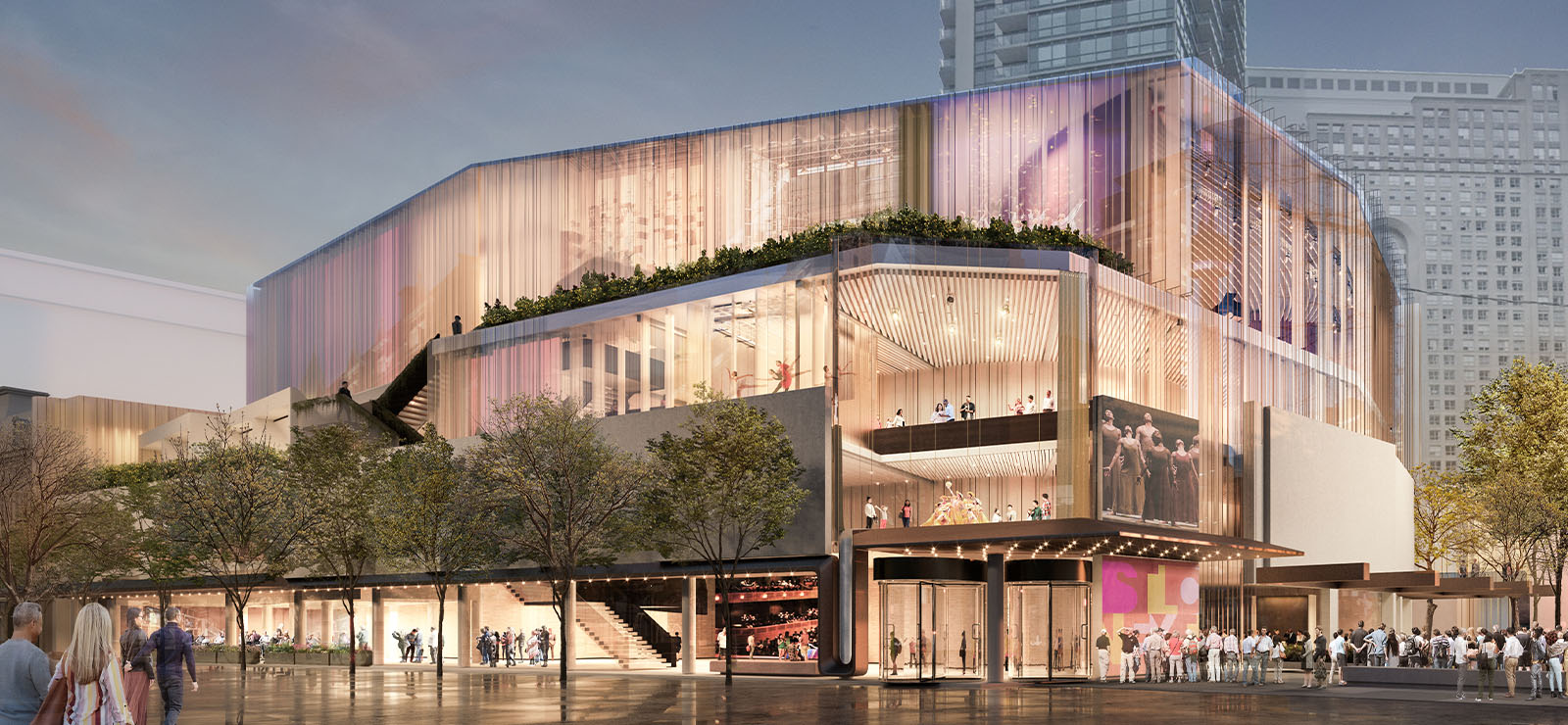 Crossey Engineering Ltd. is thrilled to be on the winning design team for the St. Lawrence Centre for the Arts (STLC) Design Competition. Congratulations to Hariri Pontarini Architects, LMN Architects, Tawaw Architecture Collective, Smoke Architecture, and SLA,  our Mechanical and Electrical teams look forward to continuing working with you.
The winning design to rethink the STLC is called "Transparence." It has a high-performance transparent facade that wraps around the existing structure, which is an iconic performing arts theatre in the middle of the St. Lawrence neighbourhood. There are also several Indigenous design elements in the building, like the exterior, which was inspired by the role of Wampum belts in storytelling, art, and craft, and a circular ceremonial fire at the corner of Front and Scott streets.
Crossey Engineering has extensive experience working on Performing Arts projects in the US and Canada. We were thrilled that our mechanical and electrical engineers worked with each of the five teams that made it to the final round of the global design competition to rethink the centre.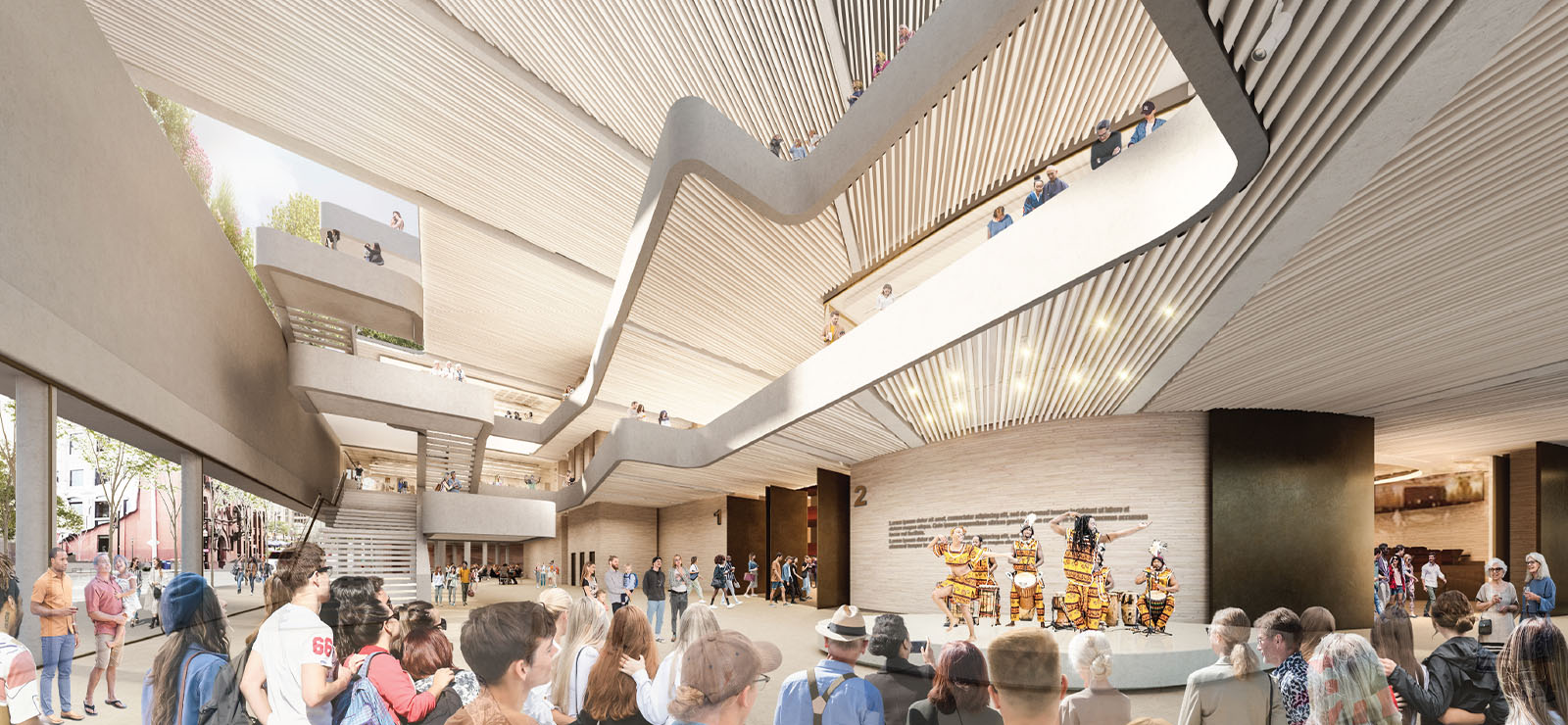 The STLC's reimagining is a chance to make a unique cultural hub that brings together culture, community, technology, accessibility, and sustainability. The main stage theatre, acoustic hall, rehearsal/multi-purpose rooms, artist-in-residence studios, media studios, child-minding space, front-of-house public spaces, front-of-house support, back-of-house, outdoor spaces, and major improvements to the public realm are all part of the new STLC.
The winning submission will be presented to Executive Committee and Toronto City Council in Q3, 2023.
Read more about the project in the featured articles below:
Rendering is courtesy of Hariri Pontarini Architects; LMN Architects; Tawaw Architecture Collective; Smoke Architecture; SLA.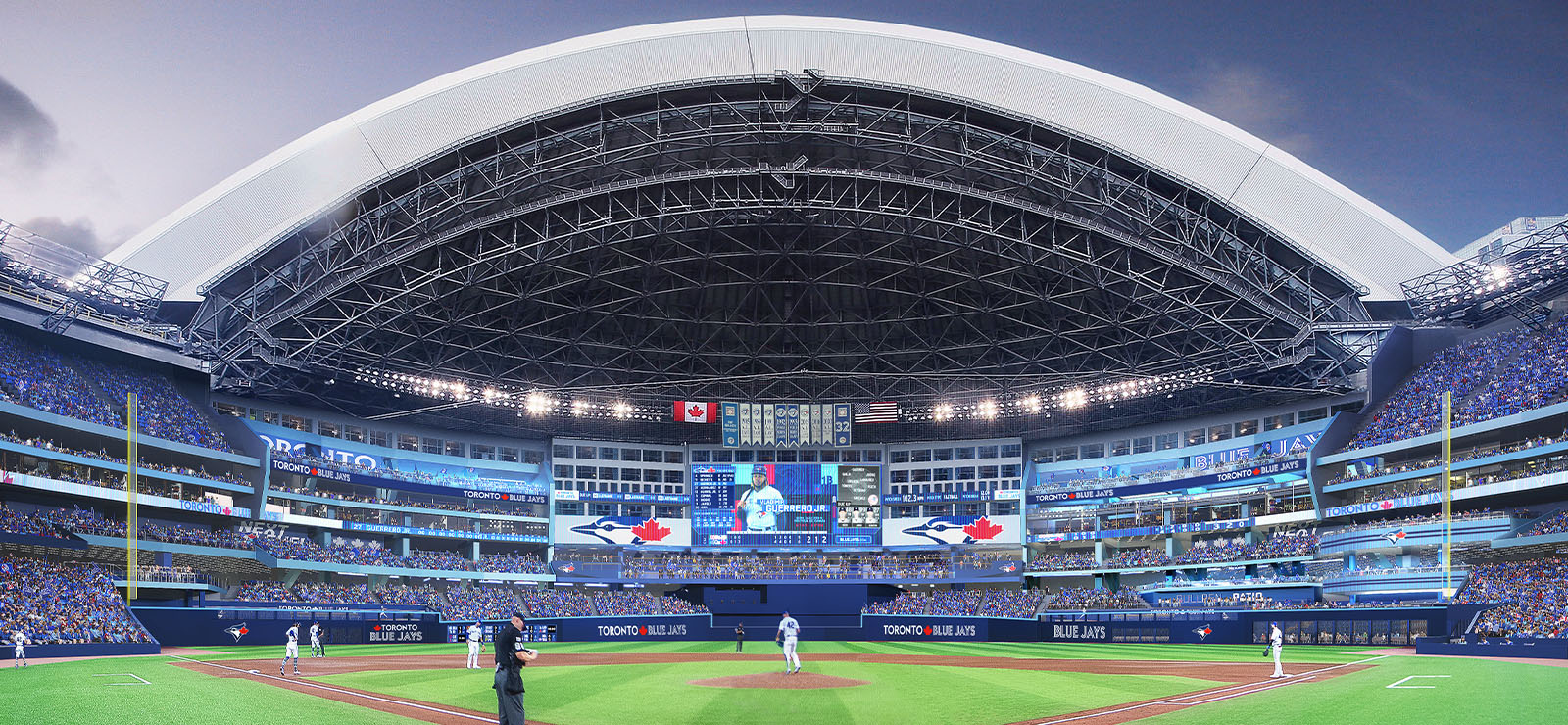 Blue Jays' Rogers Centre is about to undergo a major renovation transforming the multi-purpose stadium into a baseball-centric facility and bringing fans closer to the action.
Crossey Engineering Ltd. (CEL) is part of the all-star team that has been assembled to design the 300-million dollar massive renovation. CEL will be involved in Mechanical, Electrical, Lighting, IT, Telecommunications and Security design for this fascinating project.
We are pleased to be working with industry-leading Populous on architectural design.
A series of projects are phased over the coming two to three offseasons, focused on the interior of the building, including the 100L and 200L outfield, 500L, 100L infield, and field level. Projects will be completed during the offseason.
2022-23 offseason projects, completed for Opening Day 2023
100 level and 200 level outfield - seating area transformation
Creation of multiple new social spaces with patios, drink rails, bars, and viewing platforms
Raised bullpens surrounded by traditional and new bleacher seats, as well as social viewing areas that look into the bullpens to increase fan and player interaction
100L seats brought forward to the new outfield walls to brings fans closer to the game

500 level

Two new social decks in right and left field
Replacing every 500L seat from the originals when the building opened

Field level ­

Players' family room
5,000 sq. ft. weight room
Staff locker rooms
2023-2024 offseason projects *designs and full scope in progress
100 level infield
Field-level premium clubs and social spaces
Clubhouses and player facilities
Rendering is courtesy of Populous Architects.